The Irish turn up in a lot of places. The circumstances of Irish life from the mid-sixteenth century on, when the British consolidated their rule of the island, sent many off to continental Europe for education, soldiery or other adventure. The emergence of the British empire additionally created a paradoxical situation for the Irish: on the one hand, they were the
subjects
of empire, conquered, colonized and displaced; on the other, they were the
agents
of empire, enlisting in the imperial army or civil service, administering to other colonized peoples the same law that had been imposed on them. Subject or agent, they ended up all over the world.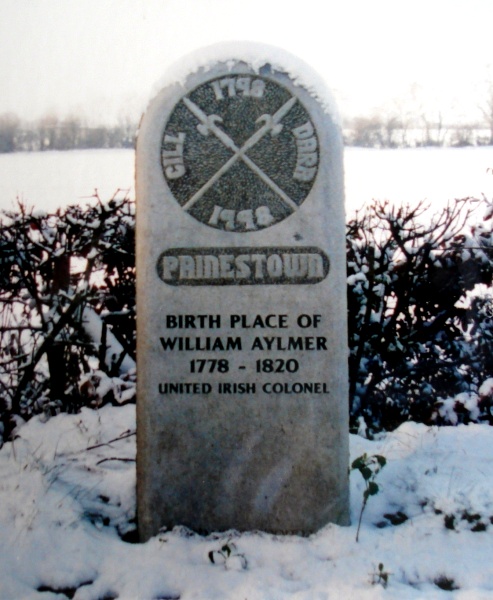 William Aylmer, for instance. He started out, conventionally, in in 1794 as an officer of the Kildare militia, a servant of the British crown. Resigning his commission, he enlisted in the United Irishmen, and served as a colonel in the 1798 rising against British rule, for which he was banished following the defeat of the rebels. He then engaged in the Austrian army as a cavalry officer, fighting against Napoleon's armies. After a few years back in Ireland, he raised and commanded an Irish legion to fight in Simon Bolivar's rebellion agains the Spanish; he was severely wounded in 1820 in Venezuela, from which he was shipped to Jamaica, where he died.
Alfred Aylward, a 19th-century Wexford man, similarly slaked his revolutionary longings across the globe. Somehow, at the age of 17, having graduated from a Jesuit school in Co. Offaly, he found himself in Sicily, fighting alongside Garibaldi. He then went to America, where he spent four years as a suregon in the Union army during the civil war (his medical knowledge was apparently acquired in Guy's Hospital in London - when he was a patient). Upon his return to Ireland, he was jailed for suspected Fenianism, and upon his release went to South Africa, where he led an unsuccessful revolt of diamond diggers against the colonial administration. Later, he led the Lynchburg Volunteer Corp, a Boer-sponsored mercenary army that fought against the Marota king Sekhukhune. During the
first Boer War
, he fought for the Boers in Transvaal. Then he went to Canada, where he took part in Louis Riel's
North-West Rebellion
of Métis - descendants of marriages between indigenous and Europeans - against the domnion government. He died in an accident in New Hampshire a few years later. The facts alone are exhausting.
Pausing to mark the end of the As after 208 pages - Alexander Ayton, a Scottish photographer active in Derry in the late 19th century brings up the rear - we plunge back into the picaresque. Beauchamp Bagenal (I'm not making this up) left Cambridge without taking a degree and embarked on the 18th-century grand tour in grand style according to his near-contemporary Jonah Barrington:
He ... fought a prince, jilted a princess, intoxicated the doge of Venice, carried off a duchess from Madrid, scaled the walls of a convent in Italy, narrowly escaped the Inquisitiion at Lisobon, concluded his exploits by a celebrated fencing match at Paris; and returned to Ireland with a sovereign contempt for all continental men and manners and an inveterate antipathy to all despotic kings and arbitrary governments.
He was later MP for Enniscorthy;
was there something about the place that attracted the crazies
?
You could of course attempt a more conventional route. The flour mill builder John Bagwell from Clonmel shinned up the greasy pole of preferment, switching from presbyterianism to establishment anglicanism, suppressing rebels during the 1798 rising and backing the British line on the union of the two kingdoms in 1800 (bribery came into it). Having dutifully supported the government party as an MP, he sought a peerage, only to be turned down by the viceroy on the grounds that his "vulgar" nicknames - 'Old Bags' and 'Marshal Sacks' - denoted a "low man". Maybe the grand tour would have served him better.
For some reason, I always imagined that
Waterford Crystal
continued an ancient artisanal tradition, like Sheffield silverware. Wrong. There had been a crystal business in the city from the late 18th-century on, but it closed in 1851. The famous company we all know dates all the way back to 1947 when a Czech refugee, Charles Bačík, opened the original factory. (I question the DIB's use of accents here: his name was generally written "Bacik" in Ireland, and I imagine that in Czechoslovakia [as it then was] he was Karel - his father's name - not Charles. For consistency, he should be Karel Bačík or Charles Bacik, but not the mishmash used by the dictionary.) Now that the Waterford Wedgwood company is in receivership and the Waterford factory closed down, it's sad to reflect that an institution so thoroughly associated with Ireland throughout the world was so short-lived.
Finally, an artist. Francis Bacon, Dublin born of English parents, never seemed in his lifetime to be strongly associated with Ireland: he left when he was 16 and doesn't appear to have returned often, although there was an exhibition of his work at the
Hugh Lane gallery
in 1965. Yet his lover John Edwards, the principal beneficiary of Bacon's will, bequeathed the contents of the artist's studio to the Hugh Lane, while the Irish Museum of Modern Art has exhibited works attributed to Bacon from the collection of another friend, Barry Joule. (The DIB doesn't mention these,
nor the controversy that has raged over their authenticity
.) So, whether Irish by conviction, or just anointed by his next of kin, Bacon has joined the pantheon of Irish lives, and we're delighted to have him.