It may be that the smuggest bumper sticker I ever saw was the one that read "In case of rapture,
this car may be unmanned
." (The link is to a website where you can buy it, along with "Bush/Cheney '04/Get Used To It!") It refers, of course, to the belief of certain Christians that at some time, certain believers will be physically translated into heaven - this is the
Rapture
- leaving the rest to deal with the Second Coming, Apocalypse and other sensational events. Well, it turns out that the Rapture has an Irish connection, sort of. John Asgill, both in 1659, was English, and a member of parliament. In 1700, he published
An argument
proving, that according to the covenant of eternal life ... man may be translated ... without passing through death, although ... Christ himself could not be thus translated till he has passed through death.
Upon publication, he promptly moved to Ireland and engaged, unsuccessfully, in land speculation. In 1703, he became member of the Irish parliament for Enniscorthy, Co. Wexford. On his first day in office, a vote was passed denouncing his book as "wicked and blasphemous"; it was ordered to be burned by the official hangman, the standard way of registering official anathematization of disfavored works. Two weeks later he was expelled from parliament and permanently banned from seeking re-election. He was later expelled from the English parliament, but apparently only partly for his religious views: he was also bankrupt. His profession is given in the DIB as "eccentric writer and politician". Jonathan Swift described his work as "trumpery". But the Rapture industry he helped to start keeps going, unabated.
William Ashford was another Englishman to try his luck in Ireland, where he became a successful and prolific artist. He toured the country for his job inspecting armaments stored in forts and barracks, and started recording the landscape, as in this French-inflected rendition of a scene in Co. Kildare. He was first president of the Royal Hibernian Academy. George Coppinger Ashlin, an architect went further and shaped the landscape. Following Catholic emancipation in 1829, there was an explosion in church building across the country, a movement that attracted many artists and artisans from inside and outside Ireland (including the English stonemason father of the revolutionary Patrick Pearse). Ashlin was born in Cork, but educated in Belgium and England, where he as apprenticed to to the architect Edward Welby Pugin, son of the pioneer of the Gothic revival, Augustus W. N Pugin. Pugin and Ashlin were responsible for a large number of Gothic-style Catholic churches in Ireland, such as the beautiful St Colman's cathedral in Cobh, Co. Cork (pictured).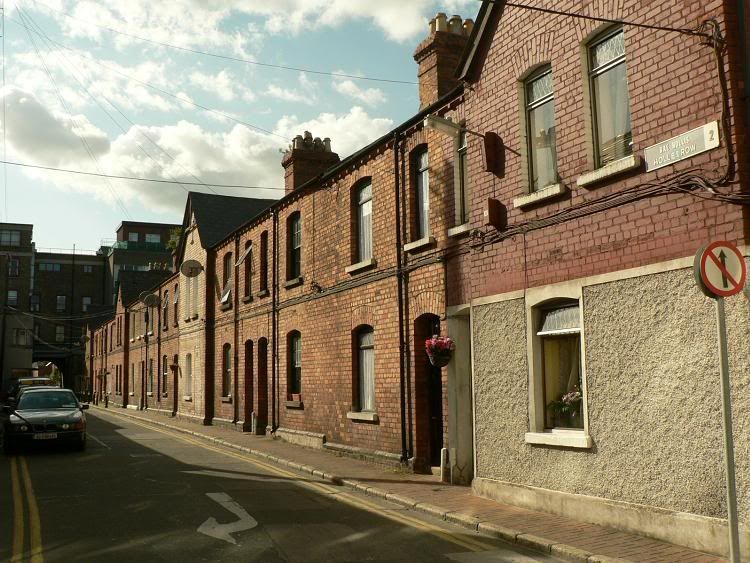 On a less heavenly scale, but arguably as significant, the English architect Charles Herbert Ashworth designed houses in the late 19th century for the Dublin Artisans' Dwelling Company, which attempted to provide low-cost housing for the working classes as a small corrective to the hideous slums - said to be among the worst in Europe - in which so many lived. The DIB says "he gave meticulous attention to the smallest details of design, construction and maintenance", which may be true given that so many are still standing, such as these in Holles Row in central Dublin, a stone's throw from Trinity College. The condition of the urban poor preoccupied many; remarkable that in a few pages of of each other in the DIB one finds Ashworth, the philanthropist Sarah Atkinson, who founded schools and hospitals around the city in the nineteenth century, and Ernest Aston, a journalist and town planner who championed improved housing for the working classes while denouncing "mediocrity and procrastination". There was - and still is - much of it about.
So often, the official British in Ireland seemed out-of-place to virtually anybody, regardless of community. Humphrey Atkins was the first of five Secretaries of State for Northern Ireland in the eleven years during which Margaret Thatcher was the British prime minister. He had an almost absurd colonial pedigree - his coffee planter father was killed by a rhinoceros in Kenya - and spent most of his life in politics following naval service and a brief stint as a linoleum executive. When he was parachuted into Ireland - the intended Secretary, Airey Neave, having been murdered by the Irish National Liberation Army shortly before Thatcher's election in 1979 - he knew next to nothing about it, and didn't pick up much on the job. I largely observed the Troubles from England in the 1970s and 1980s, and was constantly dismayed how London governments, Labour and Conservative, managed to send successions of nobodies to take on a titanically difficult job: Merlyn Rees, Roy Mason, Humphrey Atkins, Tom King, Peter Brooke ... all dreadful. Atkins was one of the worst. Maurice Hayes, one of the very few Catholic high-flyers in the Northern Ireland civil service, called him "totally invisible and lazy" and "a disaster." The IRA hunger strikes, during which 10 prisoners starved themselves to death, occurred on his watch. Atkins was a hardline supporter of the Thatcher government's hardline stance over the strikes, which alienated and radicalized even moderate Catholic opinion and caused damage that took years to repair. He returned to London to even higher office, in which he was equally ineffective: he assured parliament in April 1982 that Argentina had not invaded the Falkland Islands. Unfortunately, it had. His resignation was followed by the inevitable rewards of knighthood and enoblement, although the DIB suggests he "continued to display his phlegmatic and debonair mien." I think that means
this
.